Back in 1942, what used to be known as the Personnel Association of Toronto (PAT) held its first ever personnel conference. Seventy-five years later, the HRPA Annual Conference has grown to be Canada's largest HR event. Throughout the years, the Tradeshow has grown and expanded into what it is today – an amazing resource for HR professionals to learn more about vendors and services that will help enable their employees to do their best work.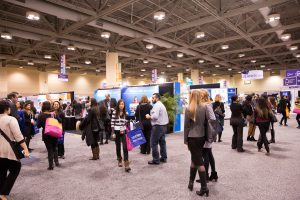 As soon as I step into the Tradeshow, the first thing I do is walk around the entire Tradeshow floor to see what's available. It has become a habit of mine, especially since there's limited designated Tradeshow time and so much to explore! Over the years, I've met hundreds of vendors and have built a strong relationship with them. It feels more like a reunion with friends than work to me. I love the opportunity provided by the Tradeshow to build my network, get to know the vendors, reconnect with my HRPA Chapter, and learn about new tools and services that I may not have come across on my own.
All the interactive booths are worth looking forward to as well. From fun photo booths to printing your own custom canvas bag, they help give me ideas on how to run my own booths at recruiting and branding events. Of course, there are the more practical booths that are a great hit as well such as the massages, professional photography, device charging stations, and stomach charging stations (love the booths with food!).
As a busy professional, I highly value my time and one of the areas that I never fail to visit at the Tradeshow is the HRPA Membership Renewal area. It literally takes me less than 10 minutes to renew my membership, I don't have to remember to do it later, AND there's a chance to win prizes for renewing early!
Lastly, the keynote speakers are usually such great storytellers that I can't help but want to buy their books. Luckily for me, the bookstore is available at the Tradeshow and offers a 20 per cent discount. One-third of the business books on my bookshelf have been bought at the HRPA Annual Conference and I'm happy to keep adding to my collection every year.
I can't wait to see all of you at the HRPA Annual Conference and Tradeshow in 2017!
About the Blogger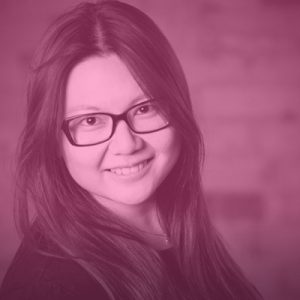 Joanna Woo is a Certified Human Resources Leader and a tech enthusiast. Called out at the HRPA Annual Conference in 2010 as the "HR professional to imitate", Joanna has been on the forefront of embracing technology for HR. As a graduate of the University of Waterloo, Joanna understands how important innovation and technology are and has pursued a career in HR systems and analytics at D2L, a software company delivering integrated learning solutions. In her spare time, she runs a company called Hackademy, an organization striving to create a fun and social environment where kids can learn how to code.