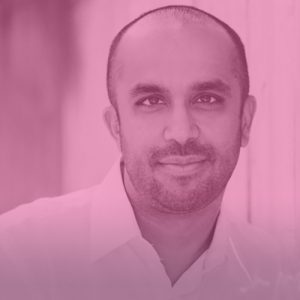 On paper, Neil Pasricha seems to have everything – multiple New York Times best-selling books, a career travelling the world inspiring and motivating business leaders to create happier organizations, and a devoted family and friends.
But his road to success wasn't without its bumps and bruises. In 2008 and 2009, Pasricha was experienced a very dark time. His marriage was ending, and one of his best friends – who had long suffered from mental illness – took his own life.
"It was a really heavy time, and as these dark clouds were circling me and I was finding it really, really difficult to think of anything good, I said to myself that I really needed a way to focus on the positive somehow," he said during a Toronto TED Talk.
"I came home from work one night, and I logged on the computer, and I started up a tiny website called 1000 Awesome Things. I was trying to remind myself of those simple, universal things that we don't talk about enough… and slowly, over time, I started putting myself in a better mood."
Pasricha's blog eventually evolved into the best-selling book, The Book of Awesome – leading to a highly successful writing and speaking career.
In his TED Talk – one of the most popular in the world – Pasricha identifies the "Three A's of Awesome": Attitude, Awareness and Authenticity.
"We're all going to get lumps and we're all going to get bumps. None of us can predict the future but we do know one thing about it, and that's that it ain't going to go according to plan," he says, adding that your attitude is what makes the difference.
"When that bad news washes over you and that pain sponges and soaks in, I really hope you feel like you've always got two choices. One, you can twirl and swirl and gloom and doom forever; or two, you can grieve, and then face the future with newly sober eyes. Having a great attitude is about choosing option two, and about choosing – no matter how difficult it is, no matter what pain hits you – choosing to move forward and move on."
Secondly, awareness – "seeing the world with fresh eyes" – and finally, authenticity, are the other missing puzzle pieces to a happier life, he says.
"When you're authentic, you end up following your heart, and you put yourself in places, in situations and in conversations that you love, that you enjoy."
But Pasricha's work isn't just about being happy when you're off the clock – he has dedicated considerable time and research to discussing how to build a happier workplace.
Pasricha draws on the latest research in happiness to increase individual performance and create a more positive and productive workplace. In his twenties, Pasricha partnered with Harvard University to design one of the first global leadership development programs inside a Fortune 10 company, and as a management consultant, he advised Fortune 50 companies on top-level leadership strategies.
He spent a decade with Walmart, directly working for two CEOs and as the organization's director of leadership development. In the past few years, he has spoken to over 200,000 people at hundreds of events, including royal families in the Middle East, Ivy League deans, and to CEOs at organizations such as Audi, Abbot, and GE.
His session at HRPA's 2017 Annual Conference and Trade Show will focus on just that: Happier People, Happier Organizations.
The strongest companies in the world have the happiest people working at them. And according to Pasricha, that's no coincidence. During his session, you will discover how to build support networks, manage energy and stress, drive engagement and high-performance results, and create lasting happiness at your organization.
Learn the secrets Pasricha uncovered through research with top leaders at Harvard, developing leaders inside Fortune 100 companies, and working with clients like Shell, Kraft, and Viacom.
Attend Neil Pasricha's keynote address at HRPA's Annual Conference and Trade Show, February 1 at 4:30 PM.