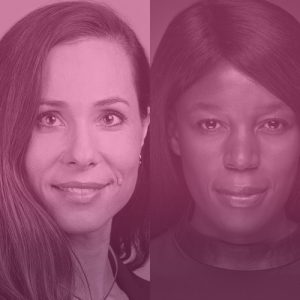 "I think it is right that as a woman I am paid the same as my male counterparts. I think it is right that I should be able to make decisions about my own body. I think it is right that women be involved on my behalf in the policies and decision-making of my country. I think it is right that socially I am afforded the same respect as men. But sadly, I can say that there is no one country in the world where all women can expect to receive these rights."
Those were the words of actress Emma Watson at the very beginning of the United Nations' "He for She" campaign. Launched in 2014, the campaign has garnered strong support from corporate partners and high-profile media attention.
And the woman behind the curtain, so to speak, is Elizabeth Nyamayaro — Senior Advisor to the Executive Director of UN Women — is one of two keynote speakers at the 2017 Annual Conference, presenting on "How to Create a Social Movement."
A legacy of work
Nyamayaro's involvement in He for She comes after an impressive resume of social activism and specifically feminist-focused initiatives. Nyamayaro has also worked at the forefront of Africa's development agenda for more than a decade, helping to improve the lives of under served populations. She came to UN Women after serving as Senior Leadership within the Corporate Strategy Office at Merck working in support of the company's ongoing efforts to broaden access to medicine in the developing world.
During her tenure at Merck, Nyamayaro also served as Director External Affairs and Policy, Africa, where she supported the launch of key women initiatives. Prior to Merck, Nyamayaro held positions with UNAIDS, World Health Organization (WHO), and the World Bank where she led and supported key public health access initiatives.
"It became really clear that if we were going to advance the conversation about young women, we needed something that was going to change how we look at gender equality in a positive way. We need to make it a global issue. If it remains a women's issue, then progress will remain slow. Men still hold power so you can't really speak about imbalance against women without finding a way to engage men as meaningful partners," Nyamayaro has said of the beginnings of the He for She campaign.
A strong advocate for economic empowerment, she founded Africa IQ, an innovative social impact organization with a mission to promote Africa's sustainable economic growth and development. Nyamayaro holds an MSc in Politics from the London School of Economics and Political Science.
Nyamayaro will be co-presenting with Kelly Joscelyne, Global Talent Management Leader at PwC. A senior HR professional currently based in the U.S. with international experience working in Australia and United Kingdom, Joscelyne has more than 20 years of HR management experience working in global consulting firms, professional services, and banking and finance.
She has managed global cultural and behavioural transformation projects, and has specialist skills in strategic resourcing, international mobility, talent management, diversity, and assessment strategies.
In her role at PwC, Joscelyne works closely with critical markets to develop talent strategies for future business growth. She also runs PwC's Leadership & Gender Equality Series, 'Aspire to Lead.' Kelly consults and supports the United Nations Women team on the 'HeForShe' Gender Equality movement.
How to start a fire
How does an organization mobilize people around one critical issue to create a mass movement? That's the central question this powerful keynote session will answer. Two dynamic, impactful and inspiring speakers, Nyamayaro and Joscelyne will share lessons corporations can adopt from the realm of social activism. With at least one man in every single country in the world signing on to the He for She initiative within its first week of launch, the campaign has become one of the most important social movements in the world today, and has been subject to more than two billion conversations online. Explore valuable lessons about creating a successful social movement as Nyamayaro and Joscelyne share campaign insights and perspectives.
Attend Kelly Joscelyne & Elizabeth Nyamayaro's keynote address at HRPA's Annual Conference and Trade Show, February 1 at 12:00 PM.